City Golf Europe is Europe's leading designer of mini golf courses. We have built several thousand mini golf courses over the last 80 years, which are currently being enjoyed by people throughout the world.
All our golf course models are available in high quality prefabricated sections that are easy to assemble. This allows you to quickly and easily get your mini golf course up and running. 

Whether you want a world championship class course or a basic mini golf course for your own garden, City Golf Europe has many attractive solutions.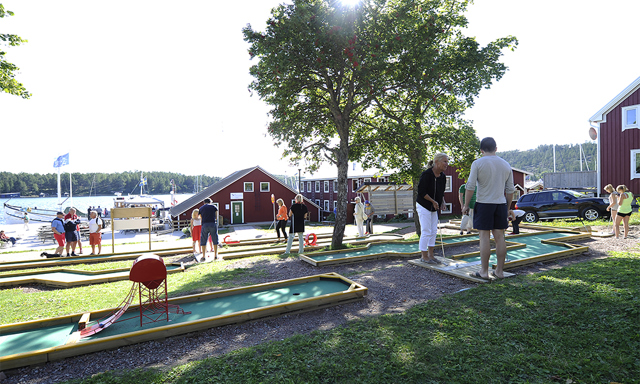 Mini golf - our models
CITY FUN PARK

City Fun Park is our most popular golf system, and has been supplied to hotels, campsites and recreational centres all over Europe. We have placed extra emphasis on the design, meaning that several entertaining Crazy Obstacles are included as standard. City Fun Park is ideal for families and youngsters, and can also be installed indoors.
>> READ MORE ABOUT CITY FUN PARK IN THIS PDF-BROCHURE
CITY BUDGET

City Budget is a great value option. It is our starting model for customers wanting to start a mini golf facility at a low basic cost. City Budget is also a great alternative to renovating an outdated mini golf system. Naturally, City Budget is of the same high quality as other City Golf Europe systems.
>> READ MORE ABOUT CITY BUDGET IN THIS PDF-BROCHURE
CITY COMBI
City Combi consists of two mini golf courses – a flat course and a hilly course. The courses have obstacles that can be raised or lowered, offering a variety of playing options. City Combi is ideal for facilities with limited space, such as cafés and youth recreation centres. Or why not install it at home in your garden?
>> READ MORE ABOUT CITY COMBI IN THIS PDF-BROCHURE
CITY BLACK LIGHT
 Transform your mini golf course into a black light course – success and fast payback
 - Laserdome in Gothenburg, Sweden made a profitable investment

 - Paint your mini golf course and attract more players

 - Fast payback & high profit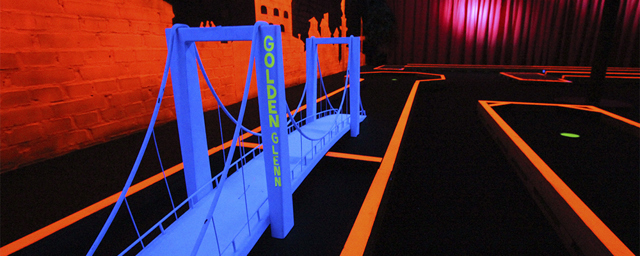 Black light mini golf in a laser tag arena.
Stefan Strömberg, owner of the Laserdome laser tag arena in Gothenburg, Sweden, made an investment that paid off.
"The black light mini golf has been a huge success. It's had an amazing response and the investment paid off in less than a year."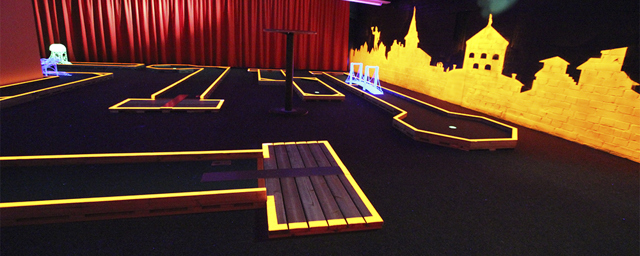 Stefan has run the Laserdome arena in Gothenburg for 20 years. Laser tag is a game where players chase each other in the dark with laser weapons. Stefan got the idea of installing a fluorescent mini golf course in the arena whilst travelling in the USA. The golf holes and edges of the structures are painted with fluorescent paint, and the balls are also fluorescent. The paint glows in the dark and guides players round the course. The black light mini golf facility has enjoyed enormous success.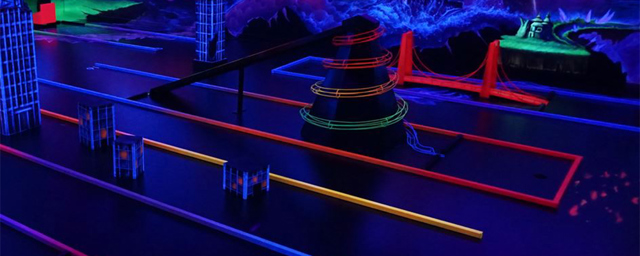 "I expected to earn back the investment in 3 to 5 years," says Stefan. "But it took less than a year, exceeding all my expectations."
Stefan bought a 9-hole City Fun Park mini golf course from City Golf Europe. He painted the edges and holes with fluorescent paint.
"We bought the mini golf course brand new, which made it quite easy to paint," he says.
"And as a positive side effect, it doubles as a regular mini golf facility when we turn the lights on!"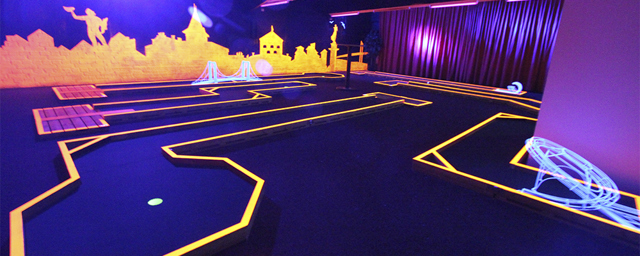 Spara
Spara
Spara
Spara
Spara