The event run by the NVG -  the industry and employers' organization for golf course operators - was attended by 300 delegates from the Dutch golf industry including operators, owners, managers, golf professionals, golf contractors, suppliers, and other entrepreneurs.


The jury awarded the NVG Innovation Award 2016 to Jurassic Golf Adventure Park Gouda partly due to the courage Michel showed in accomplishing his Adventure Golf project in Gouda with the goal of making golf more accessible to young people and families.

"We heartily congratulate Michel on being awarded this prize for innovation", said Tom Lundgren, CEO of City Golf Europe. "It is well-deserved recognition of his outstanding achievement. We are extremely proud to have partnered Michel throughout this unique project, and to have played a major role in the design and construction of his exceptional Adventure Golf course."

The 18-hole course is bursting with exciting features… animatronic dinosaurs in all shapes and sizes, a 15m long cave with 4m high waterfalls front and back, a raft for crossing a lake, cascading streams, bridges, a crashed jeep and much, much more.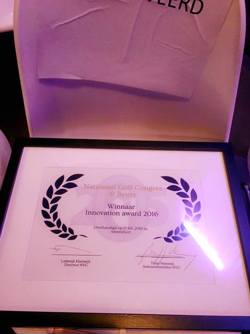 Lundgren: "Many golf clubs today are confronted with a membership dilemma. They need to innovate to attract new demographics, in particular young players. Club shops and restaurants need to have more visitors; driving ranges and golf classes need to be filled."


The innovation at Jurassic Golf Adventure Park is exemplary. The course is already attracting completely new customers in large numbers: children, women and families who have never previously had any contact with the game of golf; school groups and clubs; business customers; children's birthday parties; corporate events and social gatherings, including anniversaries and wedding receptions. The club bistro now caters for young visitors with a completely new children's menu. Extra activities like dinosaur hunts and T-Rex face painting are also available, as well as an assortment of merchandizing goods, including dinosaur eggs.


Lundgren: "Jurassic Golf Adventure Park will quickly establish itself as a major attraction in Holland, and will pay off in a very short time. Adventure Golf offers traditional golf clubs a perfect opportunity to substantially increase their income and introduce young players and families to the game of golf."