For over 50 years Sandown Park Golf Centre has provided quality affordable golf to the general public. Featuring a 33-bay driving range, starter, par 3, and main 9-hole course, the site also offers foot golf and now a very unique brand of Adventure Golf.
Designed and built by City Golf Europe, 'Galloping Mini Golf' is the first adventure golf course in the UK and Europe to be entirely themed on horse racing.
The 12-hole course takes you on a journey from start to finish of an exciting horse race. It includes putt-through obstacles, such as 'The Starting Stalls', Hurdle and Steeple Chase Jumps, and finally into the Winners' Enclosure.
Site owners Nick Jones and Craig Morley are thrilled with the new addition to the Sandown Park portfolio. They look forward to welcoming a completely new type of customer to their already successful leisure facility.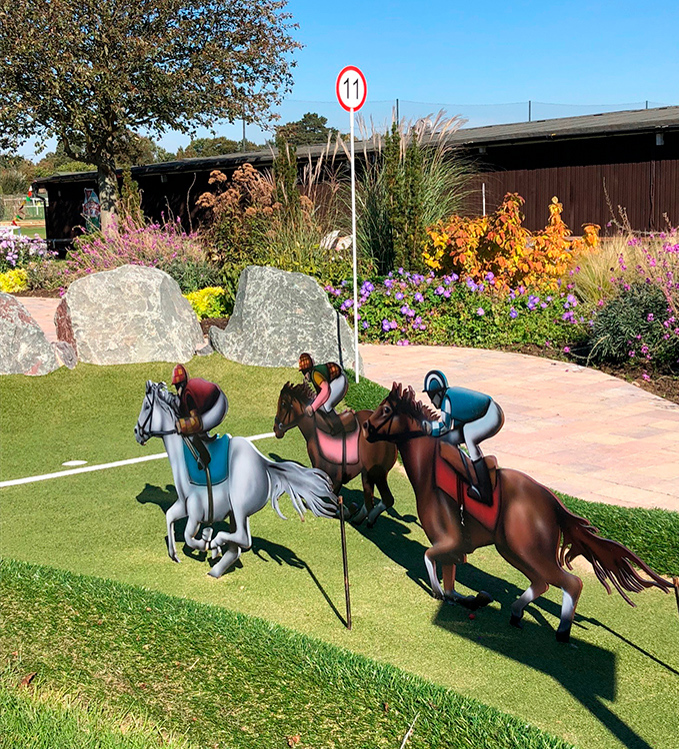 Racing for the finish line on the 11th hole of the sensational new "Galloping" adventure golf course at Sandown Park Golf Centre.